An Introduction to Brazilian Food
Brazilian cuisine is as mixed and varied as are the Brazilian people. Also like the people, Brazilian food can be traced back to the mixture of three distinct groups: the native people, the Portuguese, and the African influences. And there may be no Brazilian food more representative of these three races than the famous Brazilian stew, known as Feijoada. This Brazilian national dish is a kind of "chili and beans" but made with pork…all parts of the pork, in fact. An authentic Feijoada might even contain a pig's ear or two, along with other, difficult-to-identify parts.
Manioc
Aboriginal groups in Brazil were blessed with an abundant supply of fish, meat, wild fruits, and root vegetables. One of the staples among the native peoples was the Manioc Root, which they would pass over a sort of grate made of wood and sharp stones. The resulting mass was dried on leaves and used as a base for various dishes. They had to cook it for hours before eating because the particular strain of Manioc in the Northern Region is poisonous when eaten raw. Even after the poisons have been cooked out, the root can make your mouth numb if you eat enough of it.

The cooked Manioc flower turns into a paste that is then spiced with leaves or peppers. The dish, called Tucupi, is common in the Amazon region where the aboriginal influences are still strong. Dry Manioc flower became a staple in Brazilian cooking all over the country and is known as Farinha de Manjioca. Given a few basic spices, the course flower becomes the ubiquitous Brazilian dish called Farofa, used as a breading on meats or thrown into a plate of beans or a bowl of soup.
Fish, Chicken and More
Enter the Portuguese in 1504 and the indigenous ingredients begin to find their way into more elaborate recipes. The Portuguese were heavily into fishing and drying fish, but they also brought a taste for beef, chicken, and other cultivated animals. When they brought African slaves into the country, the cuisine changed again. The Africans brought with them new techniques and recipes using coconut, palm oil, hot peppers, and Ochre. The mix of these three culinary influences–aboriginal, Portuguese, and African–has made Brazilian food what it is today.
The Brazilian Kitchen
Traditionally, Brazilian kitchens use a wood fired oven, called a Fogão de Lenha. On top of the oven, dishes were prepared in clay pots, which are still preferred to this day. In certain regions, such as in Minas Gerais, stone pots were also used. Because so many meals were prepared in pots, a lot of Brazilian dishes are saucy, soupy concoctions that cook for hours over a hot flame.
Regional Foods
In the Amazon region, recipes resemble their native origins. It's common to find Tucupi spiced with different leaves and fruits, like the Jambu fruit. This basic dish is combined with roasted duck in the popular Amazonian dish, known as Pato de Tucupi. Another dish from this region is Tacacá, which is Tucupi mixed with dried shrimp and hot pepper. Also common in the Amazon is the use of fish from the various rivers of the area, including dishes prepared with Piranha and Tucunaré, both used frequently in soups. The Tambaqui fish is often grilled over an open fire. For desert, it's Tucupi with honey.
Moving over to the Northeast Region, the dish found on every menu is Moqueca, a rich fish or seafood stew made with palm oil and coconut milk. Other ingredients common to the Northeast Region include palm hearts, shrimp, and green kidney beans (chewy and pithy, but preferred by folks from the region). Of course, there is the Manioc Root, which is known in the region as Macaxeira (mah-kah-SHAY-rah). A common dish made with Macaxeira and coconut is called Tapioca, a kind of dry pancake stuffed with fish, meat or cheese. There are also sweet Tapiocas that are generally delicious. A wonderful dish in the Northeast region is sautéed fish or lobster in Molho de Camarão, or shrimp sauce, and the presence of crab in the many mangroves of the region puts all kinds of crab dishes on the menu. In the meat department it's always Carne de Sol, a leathery piece of sun-dried meat served in all kinds of ways. Often with Macaxeira and Mantega de Garrafa (liquid butter). For desert, it's sweets made with coconut, pineapple, and cashews. There is also an abundant use of bananas and mango.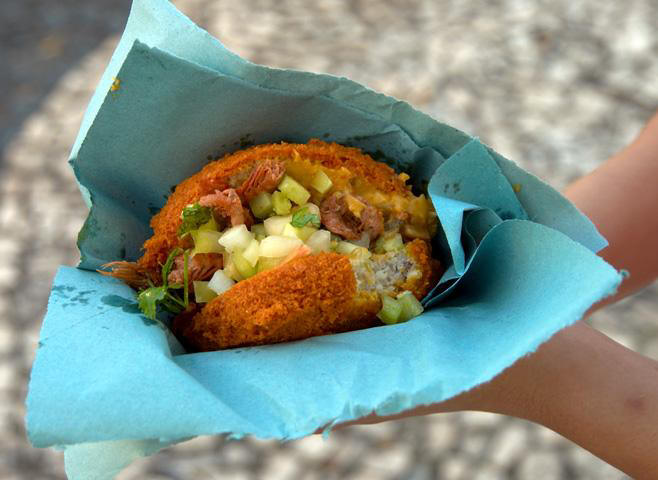 Bahian recipes are different than the rest of the Northeast Region due to the extensive African influences there. There you find the famous Acarajé, a thick batter, deep fried in Palm oil and filled with shrimp and spices. The Portuguese had a preference for a strong white fish, called Bacalhau (similar to Codfish), which Bahians prepare in all sorts of ways.
Brazil's Country Cookin'
The interior state of Minas Gerais is known all over Brazil for its country cooking, the area being loaded with cattle and small farms. In Minas, the tables are abundant with simple, comfort foods: meats, chicken and pork sausages, corn meal, and plenty of greens. A typical dish is Frango com Quiabo, which is chicken simmered in Ochre and mild spices, generally served over rice. Also, Mocotó is a soup made of beef bone marrow and corn meal. Caldo de Feijão(bean soup) and Canja de Galinha (thick chicken soup) are staples in Minas. A sub-culture of the area is the Tropeiro culture, which is responsible for foods like Feijão Tropeiro, a dry mixture of beans, sausage, fried pork skin, and Farofa.
Food in Rio & Sao Paulo
In Rio and São Paulo, you find every type of food in the world with a special emphasis on Italian and Japanese. There are also many Arabic, French, and German immigrants that bring their country's recipes to the table. Sao Paulo is probably the culinary capital of South America, with restaurants of all types and dining experiences that you'll never forget. The famous Brazilian Rodizio barbecue restaurant is at its best in Sao Paulo and you'll find some of the best pizza in the world in this massive city. Finally, don't leave Sao Paulo until you've experienced the original Sao Paulo Brazilian pastel.
Down South & Way Out West
Mato Grosso and the Pantanal area present some exotic meats, like alligator, deer, armadillo and Tapir. There are also turtle egg omelets and roasted pigeons. A pungent fruit, known as pequi is used in soups and rice. The region is the original source of many of the country's food folklore, such as the idea that combining Mango with milk will make you sick or that eating bananas at night can be deadly.
In the south of Brazil, the cooking goes cowboy and barbecued meat is the main item on the menu. Barbecues are done Argentinean style with skewered meats leaning against an open fire on the ground. The Gaúchos, or cowboys, from the region are very knowledgeable about the different cuts of meat and how to cook each one on the fire. For accompaniment, there's Pão de Milho (corn bread), black beans and fried Manioc Root (like country fries). You almost never see a Gaúcho without his Chimarrão, Matte herb drunk hot or cold from a hollow gourd. Sweets include rice pudding and fruit bars made from Goiaba (guava), Pessego (peach) and batata doce (sweet potato).
After All is Said and Done
At the end of the day, there is one food that is internationally influenced, yet perfectly Brazilian in its unique preparations and can be found everywhere in Brazil…the pizza. Brazilian pizza rarely uses tomato sauce and comes in all types and sizes, but the most common toppings are:
chicken & cheese (frango com catupiri)
four cheeses (quatro queijos)
sausage (calabreza)
broccoli (brocolis)
And as the saying in Brazil goes "tudo acabe em pizza" (everything ends in pizza).
---